Well-known Local Products and Specialty Products
Kyoho Grapes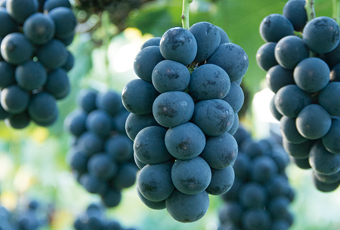 Kyoho Grapes and Tomi
These grapes were introduced in 1956 as an agriculture key crop (a crop that has become a center of cultivation in production volume, area, sales, etc, in a certain area) of the former Tobu town.
In 1962, in addition to the construction of the "Nakayashiki grapes housing complex" (now 63 units), the region's most unified production system was organized with the Kyoho grapes group at its center. Quality management of grape production has been undertaken until today and includes the research of cultivation techniques, a joint shipping system, etc.

Nutrients of Kyoho Grapes
The presence of glucose and vitamin B1 contributes to nutrition and helps to battle fatigue.
In recent years, pentapeptide, a substance found in these grapes, has been attracting attention as a way to improve the function of the brain. Abundant levels of the antioxidant polyphenol remove active oxygen and help prevent aging and disease.
Walnuts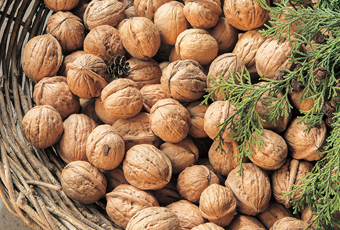 The Superfood Nutritional Value of Walnuts
EPA · DHA changed from α-Linolenic acid smooths the blood. Walnuts contain plenty of vitamin B1 which can help fight fatigue. Vitamin E reduces active oxygen and keeps skin beautiful.
Walnuts and Tomi
In the Edo era "Persian walnuts" were brought to Japan from the Persian region through China and the Korean Peninsula. Later "Western walnuts" were brought to Karuizawa by the hands of missionaries and traders in the Meiji era. They were then brought to Tomi.
As a memorial tree of Emperor Taisho's coronation in 1915, walnut seedlings were distributed to and planted in all the households of the Shigeno and Kano areas and became the basis of popular cultivation in the whole region.
Wine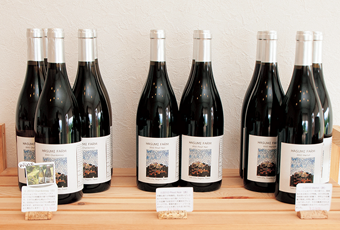 In June of 2015, in order to achieve the opening of small wineries and ensure consistent high-quality wine grapes, the Cabinet Office certified 8 municipalities of the Chikuma River midstream region (Tomi, Ueda, Komoro, Chikuma, Tateshina, Aoki, Nagawa and Sakaki) to be federated as the "Chikuma River Wine Valley (East District) Special Zone." Tomi City is proud to work with neighboring municipalities in their mutual efforts to develop the wine industry in this region.
"Tomi Wine, Climate Fermented." Vineyards with beautiful vertical trellising have spread through Kano, Netsu, Kurakake, and Kitamimaki, and even now vineyard cultivation is continuing to spread.
The first seedlings of wine grapes in this area were about 500 seedlings planted in 1991.
They were started by essayist and painter Tamamura Toyoo for his own consumption.
He planted them at an elevation of 850 meters on land he was told "could't be used to grow grapes."
However after a few years he was able to make about 14 bottles of wine from those 500 seedlings.
After that, "Rue de Vin" opened in 2010, "Hasumi Farm and Winery" opened in 2011,
and "Domaine Nakajima" opened in 2014. "Arc-En-Vigne" was started in 2015, as a place to learn and to receive new farmers and they produced their first brewing that same year.
Producers of wine grapes have also been established in this area one after another.
A clear weather rate of 90% or more, dry air and high differences of temperature allow the creation of world-class wines.
Yaehara Rice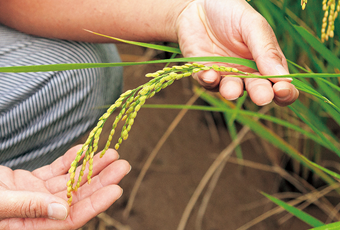 Yaehara Water and Tomi
Yaehara plateau was poor in water resources, so in the early Edo period 50 plus kilometers of
irrigation canals for rice were constructed. For about 350 years since then, mineral rich pure water has been moistening the Yaehara plateau. This, the severe temperature differences that plateaus experience, and the clayey soil all help to produce a fragrant delicious rice called "Yaehara rice" that is deliciously sweet and sticky even when cold.
Buckwheat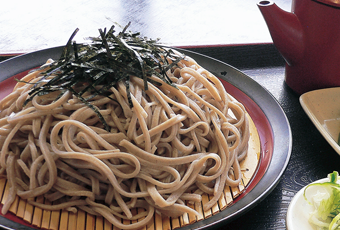 Inutate Plateau Buckwheat Noodles
On the way to Yunomaru Highland is Tomi city's Shigeno Haraguchi district, a historic land area that includes the Indate Stone Tool Era Dwelling.
There is a long history of excavations here starting in 1930 when many cobblestone pit dwellings, oven remains, bone fragments of animals, and earthenware were excavated.
Thereafter, in 1983, and 1984, an investigation was carried out to confirm the range of the ruins,
and it was found that about 63,000 square meters were a part of Tobu town, and that 80,000 square meters were in Komoro, making this a very expansive area of historic ruins.
Wanting to make a famous local product using this historic name "Inutate" (a variation of "Indate"), noodles made in the Shigeno district were proudly named "Inutate plateau buckwheat noodles."
Buckwheat harvested from the buckwheat fields of the Haraguchi district is milled and buckwheat dough using 100% freshly ground flour is kneaded to make these noodles.
You can enjoy these noodles in the city, at "Yurarikan" and the "Raiden Walnut Village Road Station". They were also very popular at the November 15, 2015 Nagano Prefecture Showroom "Ginza NAGANO" event.
Sweet Corn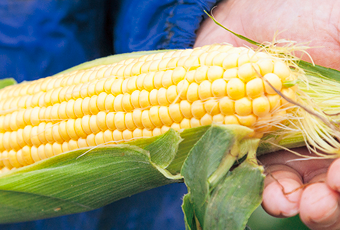 Sweet Corn (Gold Rush) and Tomi
Refreshingly sweet kernels and very soft grain husks are features of this corn. Sweet corn that is suitable for harvesting in cold areas has been grown in Tomi since about 30 years ago. It can be eaten boiled, steamed or baked, but if you eat it raw you can enjoy a special juicy sweetness.
Hakudo-Bareisyo Potatoes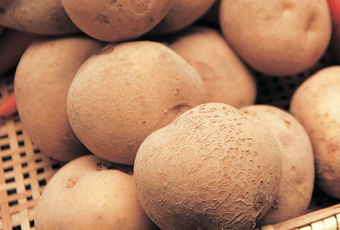 Hakudo-Bareisyo Potatoes and Tomi
The production of Hakudo-Bareisyo Potatoes began about 60 years ago.
Clayey soil is the most important condition for this crop, but the difference in temperature between day and night also adds to achieving the greatest sweetness and flavor, making this a splendid Tomi brand food.
Broccoli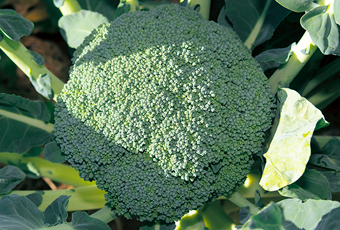 Broccoli and Tomi
Broccoli was established as a Tomi brand food and has been produced here for about 30 years.
Ginseng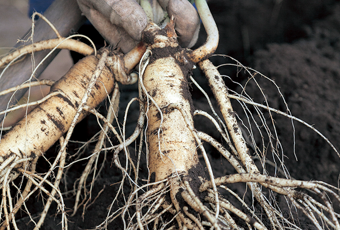 Ginseng and Tomi
Sow the seeds in the fall and raise them for two years. Dig up the ones that have grown in the fall of the second year and sort them.
Flowers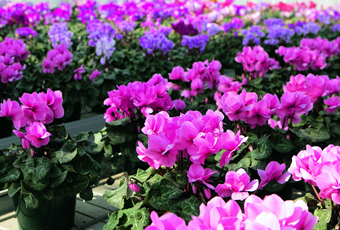 Original Soil
The limited company Tail Mountain Farm has an original soil that was compounded with "Terra cottem," a soil improvement material that was successful in greening deserts. This soil increases water- and fertilizer-holding capacity, and can be used to raise sturdy seedlings.