Tours
Guided Trekking Tours
Guided Trekking Tours
Introduction of Yunomaru Highland and Tour Outline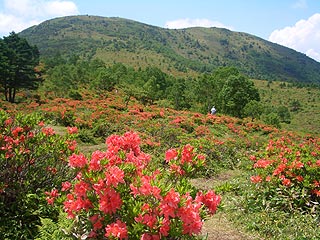 unomaru Highland is located on the western side of the Asama mountain range and is known as a "flower plateau" where you can encounter various alpine plants in the refreshing subalpine belt wind. The large population of Japanese azalea, which reaches its peak in late June, is said to be made of 700,000 bushes, and it is designated as a natural monument of the country. The contrast of vivid vermillion and green is a tremendous sight.
In addition, as the name Yunomaru suggests, the mountains here are a range of round and peaceful peaks. Starting with "Yunomaru Mountain" and "Eiboshi Mountain," you can enjoy various trekking courses according to your physical fitness level. Thanks to the stable climate with little rain and outstanding views, these are popular courses that can be comfortably climbed even by beginners.
Ikenotaira is a high-altitiude marshland that spreads through the crater of Sanpogamine volcano at an altitude of 2000 meters. You can observe various aspects of nature, from komakusa flowers in late June to July, to animals and plants inhabiting woodlands and even alpine flora and fauna that can found in mountainous areas above 3000 meters.
In the guided trekking tour, an interpreter (a nature commentator) accompanies the group and gives route guidance and nature commentary so that you can learn more about alpine plants, nature, and volcanos.
Yunomaru Highland's Four Seasons
From the beginning of May crowberry and Japanese larch bloom while viburnum, anemones, alpine azalea, etc, bloom from mid-May. Japanese azaleas, orchids, fleabane (Erigeron), bog bilberries and snakeberry begin to bloom in June, followed by the flowers of summer. When pincushion flowers and marsh grass of Parnassus start to bloom, the fruit of bog bilberries, lingonberries and crowberries turn red or black.
The snow season starts from late November.
For climbing snowy mountains with snowshoes and tracking animals in white plateaus
(an animal's species and behavior can be studied from the footprints of animals left in snowy or muddy areas), etc, Yunomaru Highland is a great place even for beginners.
Plan introduction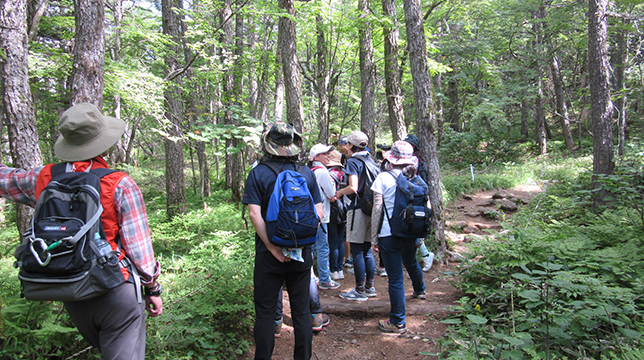 Yunomaru Highland "Sky Trekking" and Forest Therapy Walks
These are trekking plans for Yunomaru Highland 's "Yunomaru Mountain", "Eiboshi Mountain", "Higashi Kagonoto Mountain", "Nishi Kagonoto Mountain", and "Mizunoto Mountain".
While feeling the refreshing wind of the subalpine belt, you can enjoy trekking the "Flower Plateau".
With little rain, a stable climate and outstanding prospects, these are popular as courses for beginners to climb mountains safely. An interpreter will accompany you so that you can enjoy the countenance of every season.
Period: June 1 - October 31
A Course : Around Yunomaru Mountain Plan
3 hours 30 minutes 13,000 yen
B course: Yunomaru Mountain Roundtrip Course
2 hours 30 minutes 10,000 yen
C Course: Eiboshi Mountain Roundtrip Course
4 hours 13,000 yen
D course: Yunomaru Mountain / Eiboshi Mountain Course
6 hours 15,000 yen
E course: Ikenotaira / Higashi Kagonoto Mountain / Mizunoto Mountain course
3 hours 30 minutes 13,000 yen
F course: Higashi Kagonoto Mountain / Nishi Kagonoto Mountain course
2 hours 30 minutes 10,000 yen
The price is the amount of money per guide. 1 to 15 participants can participate per guide.
Yunomaru Highland · Ikenotaira Marshland "Alpine Plant Flower Corridor" Walk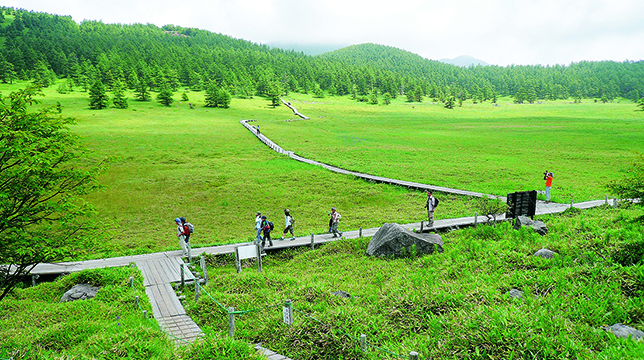 This is a walking plan to explore the nature of "Ikenotaira Marshland", a treasure house of alpine plants, which is one of the highlights of Yunomaru Highland. You can enjoy a variety of flowers while feeling the air of a refreshing plateau from late June to July when populations of the alpine plant queen "komakusa" can be seen.
Alpine plants will bloom in and around the Ikenotaira Marshland from around the time of the consecutive holidays in May. First of all, crowberry, goldthread and natural larch flowers bloom, followed by flowers of spring coming out one after another. Several kinds of flowers bloom in June, including komakusa which has been crowned the Queen of Tall Mountains. The best time to see them is from late June to early July. From July to August, this park will reach the peak season for alpine plants. When you walk around this area it is possible to observe 90 kinds of flowering plants, and you can enjoy a hiking trail of flowers.
As early as September, the signs of fall arrive, from autumn colored grass to autumn leaves,
and you can see snow dancing as early as the middle of October.
With the interpreter's guidance (nature commentary), you can observe the ecology of wetland plants and precious alpine butterflies in detail.
Period: June 1 - October 31
G Course: Ikenotaira Marshland Course
1 hour 30 minutes 10,000 yen
H Course: Sanpogamine / Ikenotaira Marshland Course
2 hours 12,000 yen
Process
STEP 1: Application
Please refer to each plan's page and apply according to the "Application Method" after deciding the plan you wish to join.
※ Please apply from 1 month to 10 days before the day you want the guide.
※ The guided tour's business period is from June 1st to the end of October.
STEP 2: Confirmation of Acceptance
The Tomi City Tourist Association will contact you to confirm your reservation when your guide has been decided. (Fax or email)
We will also contact you with relevant notes, etc.
STEP 3: On the Appointed Day
The meeting place of the tour is the "Yunomaru Nature Learning Center".
On the day of the tour, please have the representative of the application contact the Yunomaru Nature Learning Center (by phone) 30 minutes before your arrival.
Also, please be sure to call (by phone) if the scheduled arrival time changes as follows.
· If it becomes earlier by more than 30 minutes · If it becomes later by more than one hour
When you arrive please pay the guide fee. We will issue a receipt. (* Payment in cash only.)
Please contact the Yunomaru Nature Learning Center on the day of the tour.
Yunomaru Nature Learning Center
Address: Tomi City Yunomaru Highland
Phone number: 0268-62-4333
Business period: April 29 - November 30
Application Method
Please contact the Tomi City Tourist Association for application and inquiries. Please apply with the application form below. Please make an application 10 days before the desired date.

Guided Trekking Tour application form (link to Japanese site)
Tomi City Tourism Association
Phone number: 0268-62-1111
Fax number: 0268 - 67 - 3337
E-mail address: info@tomikan.jp
Access information
The "Yunomaru Nature Learning Center" is a meeting place for both plans.
Yunomaru Nature Learning Center
Private car:
30 minutes by car from Tobu-Yunomaru IC on Joshinetsu Expressway
25 minutes from Komoro IC on Joshinetsu Expressway
Taxi:
30 minutes from Shinano Railway's Shigeno station
35 minutes from JR Azuma Line Manza · Kazawaguchi station
Bus:
Chikuma Bus: http://www.chikuma-bus.co.jp/
From Sakudaira Station via Komoro Station to Yunomaru Highland (please note the dates of operation)
60 minutes from Sakudaira Station
45 minutes from Komoro station
Parking Lot:
1500 cars (please use the Jizo Pass parking lot)
FAQ
Q:What kind of place is Yunomaru Highland?
Joshinetsu Kogen National Park's "Yunomaru Highland" is a treasure trove of various kinds of alpine plants including large populations of Japanese azaleas, komakusa, irises, pincushion flowers, etc, and is familiar as a "flower plateau" perfect for flower trekking.
Yunomaru Highland is 2 hours by car from Nerima IC, 1 hour and 30 minutes by Shinkansen from Tokyo, 3 hours by car from Komaki JCT, 3 hours and 30 minutes by train from Osaka. Its convenient access from urban areas is part of its appeal.
Q: What kind of clothes should I wear?
A: Please wear long-sleeved shirts and long pants, trekking shoes, climbing shoes or athletic shoes. Also, mountains have frequent changes in weather, so be sure to bring rain gear.
Q: Is there anything I need to participate in the trekking plans?
A: We do not have accident / damage insurance. We recommend you join domestic travel insurance beforehand. For those who wish to purchase insurance, 1 group can be insured for 1,000 yen for up to 20 people. Please fill in the request to purchase insurance when applying for the plan.