Yunomaru Highland
The Nature of Yunomaru Highland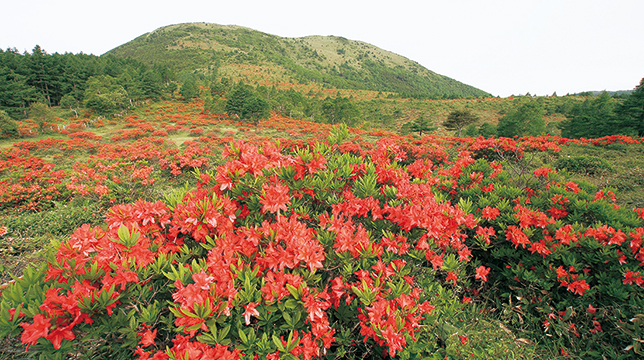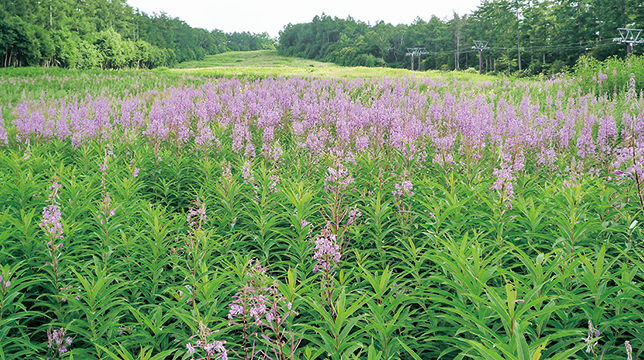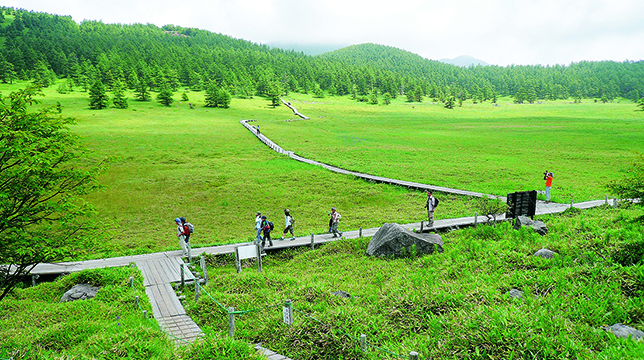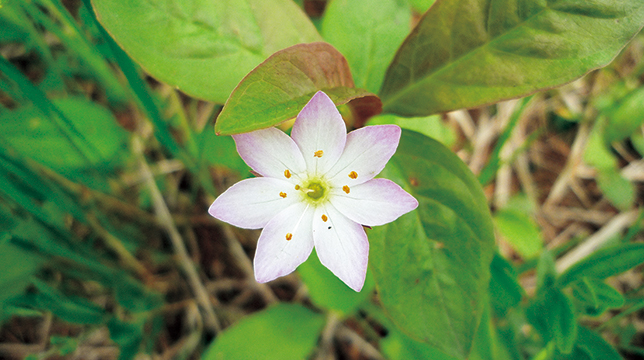 Yunomaru Highland is located on the western side of the Asama mountain range, and as its name suggests, the mountains here are a range of round and peaceful peaks that, with their subalpine belt climate, are familiar as a "flower plateau".
The famous population of Japanese azaleas is designated as a national natural treasure, and at the beginning of summer in late June, they dye the mountain face of Yunomaru Mountain like a vivid red carpet.
The surrounding mountains are relatively easy to climb, with stable weather, little rain and outstanding views, and are popular as a course for beginners to climb safely.
Eboshi Mountain:
Located at the westernmost point of the Asama mountain range, this mountain is said to have its name derived from the shape of its sharp peak being like a peaked hat worn by noble ladies in ancient times.
From the summit you can see the panorama of the Northern Alps, the mountains of the Joshinetsu area, and the flowing Chikuma River below you.
Kagonoto Mountain (Higashi Kagonoto Mountain / Nishi Kagonoto Mountain) and Mizunoto Mountain:
Kagonoto is a strange name, but it is said that when the mountain was an object of faith, it was named the "Tower of Protection" (the place where God's power is given) from its being the closest place to heaven. ("Tower of Protection" is pronounced "Kagonoto" in Japanese.) These peaks offer a bird's-eye view of Mt. Asama, Mt. Fuji, Yatsugatake, the Northern Alps, and far away to the Nikko Mountains.
Ikenotaira Marshland:
Ikenotaira is a high-altitiude marshland that spreads through the crater of the tens-of-thousands of year old Sanpogamine volcano at an altitude of 2000 meters.
The area around Ikenotaira at the foot of Mt. Asama has a steep topography that rises suddenly from temperate woodlands to summits at altitudes of more than 2000 meters. Due to the inland climate, the temperature difference between the day and night and the annual temperature difference are very distinctive climate conditions of this area.
Therefore, woodland animals and plants and even alpine flora and fauna that can found in mountainous areas above 3000 meters are found together in this narrow zone.
Such a unique environment makes Ikenotaira Marshland a "treasure trove of alpine plants" that nature has preserved.
You can see flowering plants such as fringed galax and Rhododendron brachycarpum in June, large populations of Japanese azaleas and irises in July, and fireweed, pincushion flowers and gentians in August and September. On the southern slopes of Mt. Miharashi and Mt. Sanpogamine, you can also see the population of the "Alpine Plant Queen Komakusa" (late June to July).
In addition, we can observe wetland plants such as marsh grass of Parnassus and tussock cottongrass.
Wild animals such as stoats, Japanese serow, Japanese buzzards, etc, inhabit this area while many birds sing among the trees and precious alpine butterflies such as Erebia niphonica, eastern pale clouded yellows and Aporia hippia can be seen gathering in search of flowers.
For the protection of the nature at Ikenotaira, and for the maintenance of the toilets, etc., the Ikenotaira parking lot requires a fee. This parking fee covers costs for the maintenance of the forest and facilities, environmental beautification, etc.
Period when payment is required: June 1 - October 31
Parking fee for normal cars: 500 yen
Medium size vehicles: 2,000 yen
Large vehicles: 3,000 yen
Normal motorcycles: 100 yen
If you only use the parking lot for letting people in and out of your car, a fee is charged for forest users. (Adults: 50 yen, Children: 20 yen)
We ask for your understanding and cooperation for a better natural environment and better maintenance.
※ The Ikenotaira shuttle bus service ended in 2013.
Yunomaru Highland's Flowering Season
Yunomaru Highland is located on the western side of the Asama mountain range, and the rounded and peaceful peaks with the refreshing subalpine belt climate are familiar as a "flower plateau."
In addition, the 2000 meter high Ikenotaira Marshland area is a "treasure trove of alpine plants" which spread over the crater of the tens-of-thousands of year old Sanpogamine volcano.
Please have a look at the typical flowers from May to September.
Note: According to Takashi Yanagisawa's "Flower Scented Yunomaru / Takamine Highland", though the information is divided into months, there are flowers that can be seen either earlier or later than their listed periods.
For trekking / flower information, please contact Yunomaru Nature Learning Center.
Yunomaru Nature Learning Center Tel 0268-62-4333
Yunomaru Ski Area
Come to a silver world at an altitude of 1,800 meters just two hours from Tokyo. Powder snow as good as that found in Hokkaido is a source of pride here throughout the season.
Beginners and experts alike can fully enjoy their ski life on slopes that are serviced daily.
Many courses are offered for various levels, including a wide slope with an altitude difference of 255 meters and a distance of 1,100 meters, an advanced course with a maximum slope of 35 degrees, a pole exclusive course, and a learning area for group lessons.
Information on various rates and classes as well as special discount information can be found on the homepage.
Access: 20 minutes from the Joshinetsu Expressway's Tobu-Yunomaru IC