Raiden Road Station
Raiden Michinoeki is located at the entrance to "Yunomaru Highland" known as a treasure house of alpine plants in the summer and for its ski area with exquisite powder snow in the winter. This road station has a large parking lot available 24 hours a day, a break room and toilets. Please feel free to drop by at this landmark in Tomi City and Eastern Shinshu.
Local food cuisine corner … hand-made buckwheat noodles "Inutate soba" · a snack made using local food ingredients
Agricultural products farmer's market … seasonal fresh products sold directly to customers
Special product corner … sells souvenirs such as local pickles, dumplings, and walnut sweets
Raiden Electric Data Center … public exhibition related to local hero Raiden (sumo wrestler)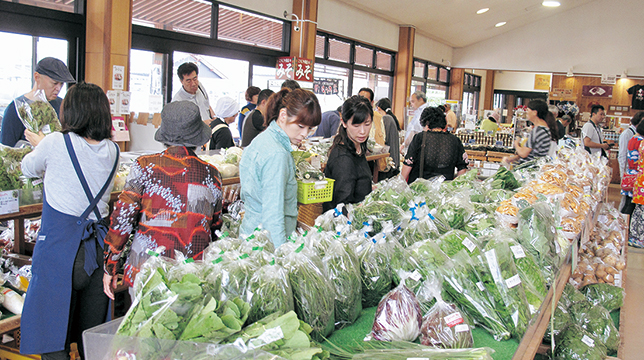 Parking lot: 100 ordinary cars, 20 large vehicles, 2 handicapped spaces
Toilets: 17 for males, 17 for females, 1 for physically disabled people
From Joshinetsu Expressway's "Tobu-Yunomaru IC" or "Komoro IC"
About 5 minutes on Asama Sun Line
Meals / 7: 00 ~ 19: 00
Shop / 8: 00 ~ 19: 00
7 days a week, all year round
Parking spaces, toilets, rest areas, public phones, etc. can be used 24 hours a day.
Mimaki Road Station
This is a road station with Nunobiki Hot Spring Makinoyu, a hot spring activity center, and a local cuisine called "Mimakien".
"Makinoyu" has an open-air bath and an indoor bath from where you can see Mt. Asama and other mountains, as well as a sauna, so you can relax both mentally and physically. There is also a direct sales corner for rice and vegetables in the facilities, so you can purchase fresh, seasonal Tomi agricultural products.
Facilities overview:
Hot spring activity center
Facility overview: 25 meter heated pool
Walking pool
Sauna, etc
Open hours: 10:00-22:00 (swimming ends at 21: 30)
Closed days: Monday (Open for public holidays)
Price: Adults - (high school students or older) 1,000 yen
Children (elementary / junior high school students) - 500 yen
Elementary school students - free of charge
Contact: Phone number 0268-61-6006